Drafts 31.0 has been released:
Details below. For a complete history of updates, visit:
---
What's New
Interface Refresh
Lots of general usability and interface and improvements, including updated icons, some button re-organization, and a variety of new features. Highlights:
iOS:

Quick Search is now in the top toolbar. Note that you can tap and hold on the search button for quick access to "Find in Draft…" as well.
Menus to load workspaces and action groups are now (v) down-arrow menus at the top of the list. If you would also like to access from the bottom of the screen, enable workspace/action group bars in (...) list options
The (i) detail button was removed to reduce clutter. Long press the draft icon at the top left of the editor and select "Get Info" to access draft details.
Actions can be accessed from the Action Bar above the keyboard without loading the action group in the bar. Tap the group icon at the left to select groups, and each group has a list icon along with it which will open a menu of actions in that group. This makes it easy to access seldom used text manipulation actions without swapping out the group displayed in the action bar.
New options (in Aa editor settings) to toggle visibility of the word, character, and selection counts. These can also be toggled quickly by long-pressing the Aa button.

Mac:

Workspace and action group bars are now available at the bottom of the list panes for quick access to loading groups and workspaces in the lists. These can be toggled on and off in the View menu.

Configure Window action step. Provides an easy way to create actions that configure the editing window, hiding/showing side panes, switching pinning/link mode, and loading workspaces and/or action groups. Great for jumping to a particular workflow. (more)
Show/hide character, word, and selection counts. Options in the Aa editor settings view. These options can quickly be toggled using the long-press menu on the Aa button.
Focus Mode is now Pinning. The "focus" name was a bit confusing, and the eyeball icon did not clarify what it did. Apple adding the "Focus" system feature didn't help, either. This mode has been replaced by the "pinning" option, which pins the current draft in the editor, temporarily disabling the "new draft after" timeout. (more)
New setting available to control what happens in the editor after an action's "After Success" setting files a draft in the archive or trash. The default is to open a new draft, but, optionally, the "next draft" from the current draft list can be loaded. This was a feature of focus mode, but one that few people knew about.
Workspaces Backups: Workspaces are now included in periodic backups. Options in Settings > Backups. (more)
Notion Integration (Beta)
This version introduces basic integration with the Notion online project management system. Notion's API is still in beta but has become stable enough to start offering integration in Drafts. Be aware that aspects of this functionality may change or stop working if Notion makes changes in its API during the development process. We also plan to expand functionality based on feedback, so if you are using Drafts with Notion, please let us know other features you would like to see added.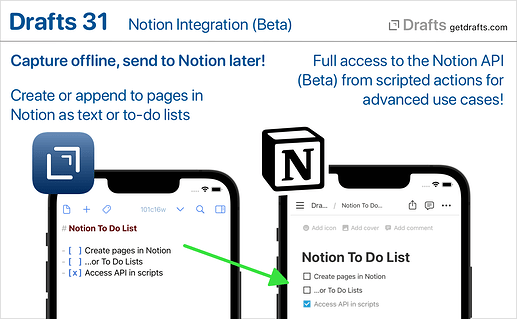 This initial integration provides:
Notion Action Step that allows easy configuration of actions which create or append to pages in Notion as either text or todo lists.
The Notion script object, which provides access to the entire Notion API for advanced use cases.
For details, example actions, etc., see our Notion Integration Guide.
Maintenance Tasks
New "Maintenance" view in Settings/Preferences. This view is a home for completely optional periodic maintenance tasks to help restore defaults, clean up data you may no longer care about, or improve performance. Make sure you understand what the tasks do before running one because some are destructive and not reversible. Details on available tasks in the User Guide.
Other Changes and Updates
All Platforms

Change: Action steps configurations can now be viewed as read-only in the free version to allow for better content review.

Fix: Revamp handling a number of text modifications in the editor, both via the editor script object in actions, and via autocomplete, auto-match, and list completions, to better participate in the editor's undo/redo stack and avoid a few cases where undo could stop functioning.
New: WordPress action step now includes the option to specify whether user comments should be allowed on the resulting post.

Fix: Autocomplete canceling when typewriter scrolling enabled.
New: Individual autocomplete items can be shared as URLs which can be used to installed in other installations of Drafts.

Scripting Changes:

Reminder script object now has startDate, startDateIncludesTime, and completionDate, and location properties available.
editor.focusModeEnabled deprecated, and replaced by editor.pinningEnabled (still works, may be phased out on future release)
FileManager.exists method
ActionLog.status readonly property to indicate status ("completed", "failed", etc.) of the log entry.

iOS

Fix: Clearing search in the action list would not reload the last loaded group if a group had not be selected since cold start of the app.

Mac

Fix: Issue deleting actions shared to the Directory in the "Manage Actions" view.
Fix: Paragraph numbers not always redrawing on scrolling.

Apple Watch