Drafts 19 (iOS) has been released in the App Store, details below.
See Also: macOS Release Notes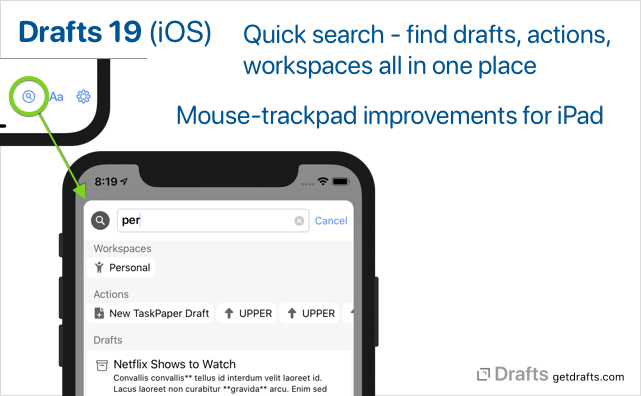 What's New
Quick Search: Global quick search feature to query for drafts, actions, workspaces and common commands in one place.

Accessed via search button at bottom of editor, by pulling down past the top of any draft in the editor, or with the shift-command-F keyboard shortcut.
/quickSearch?query= URL action to open directly to quick search.
app.showQuickSearch(initialQuery) scripting function.
Related change: Searches (in quick search and in draft list) now support tag matches in additional to full text searching, in addition to their support for "exact phrase" with quotes and -omission with hyphen
Quick Search feature requires iOS 13.1 or greater.

Better mouse/trackpad hover state support for iPadOS 13.4 and up.
FileManager script object additions:

baseURL and basePath properties return full file:/// URL or POSIX path to the base directory used by the FileManager instance. This can be useful in cases where the full location of files is needed.
writeJSON(path, obj) and readJSON(path) convenience functions for saving and restoring JavaScript objects in files.

app.showDraftInfo(draft?) function to display details of a draft. Docs
Additional Workspace script object properties:

loadActionListGroup (ActionGroup)
loadActionBarGroup (ActionGroup)
loadFolder ("inbox", "archive", "trash", "flagged")
Other Changes
Fix: Display issue in workspaces widget for unsubscribed users.
Change: Better visibility of empty states
Fix: "After success" filing options on actions could cause the next draft to be selected in other windows than the one triggering the action on iPad.
Fix: Bug affected restoring tag filter "all/any" status in workspaces saved in state restoration sessions.
Change: Improve identification of HTML tags in Markdown syntax.
Misc. other reliability and performance improvements.
For a complete history of updates, visit the changelog