Apple has recently enabled in-app purchases, including subscriptions, to be shareable using Family Sharing. We have made Family Sharing available for the Drafts Pro subscription, for both annual and monthly subscribers.
With Family Sharing your Drafts Pro subscription can be shared with up to five other family members.
How to Setup Family Sharing
If you have not already set up Family Sharing, visit Apple's Family Sharing page to learn how to get your family group setup, and get familiar with those shared purchases work.
OS Requirements: Note that Family Sharing of in-app purchases is a new feature, and requires users iOS devices be running iOS 14.3 or greater, and Macs be running macOS 11 (Big Sur) or greater.
Enabling Family Sharing
We have made Family Sharing available for Drafts Pro subscription, but you may need to enable it for your Drafts Pro subscription. Existing subscriptions purchased before the release of Family Sharing will have this feature turned off by default. To change:
Visit your subscription management page in the App Store app - on either iOS or Mac.
Open "Subscriptions" and your Drafts subscription details.
Turn on "Share with Family".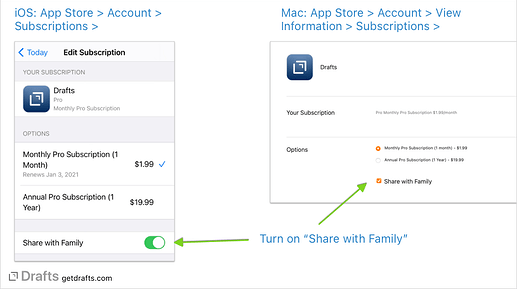 You only need to do this once, on one device (iOS or Mac).
Unlocking Drafts Pro on Family Devices
Once you have made sure Family Sharing is enabled for your Drafts Pro subscription, other family members should be able to unlock Drafts Pro. In some cases, such as new installs, Drafts will automatically detect the availability of Drafts Pro. For existing installs, your family members can use the "Restore Purchases" option when prompted to purchase Drafts Pro in the app.
Note: If you have just enabled "Share with Family", and "Restore Purchase" does not work for your related family accounts, be sure they are unlocking on the same platform you made the purchase (see below), and may wait and try again in a few hours to be sure changes have been able to update on Apple's servers.
Important Note about iOS & Mac Subscriptions
Drafts Pro subscriptions can be purchased on either iOS or Mac, but the actual purchases are separate. Drafts shares subscriptions through iCloud when syncing data. Because of this Family members can only "Restore Purchases" to unlock Drafts Pro on the platform you made the subscription purchase.
So, if your Drafts Pro subscription was purchased on iOS, Family members will only be able to unlock the shared subscription on their iOS devices. If they have a Mac, that Pro subscription will be shared to their Mac through their iCloud account after it is unlocked, but the initial restore must happen on the platform the purchase was made.
Only Subscription is Shared, not Data!
Family Sharing of your Drafts Pro subscription is only sharing the Pro features. No data is shared through Family Sharing - each member of your family using Drafts will still have their own set of drafts, actions, and any other customizations to the app, tied to their Apple ID and iCloud storage.