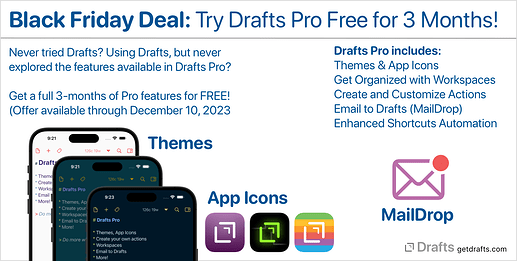 Never tried Drafts? Using Drafts, but never explored the features available in Drafts Pro? Tried Drafts Pro in the past, but the free trail wasn't long enough for you to evaluate some of the features?
As a Black Friday special this year, we decided to try something a little different. We're offering a free, extended three-month trial of Drafts Pro!
What is Drafts?
Drafts is where text starts. The award-winning app for iPhone, iPad, Mac, and Apple Watch that lets you just launch and type. A scratchpad to capture ideas, messages, tasks, any sort of text quicker than ever, edit with ease, and act on it with powerful integrations. Learn more.
How to Redeem
On your iPhone or iPad, follow the link below. It will open the App Store and let you complete the redemption process. If you do not already have Drafts installed, the App Store will install it:
This offer is valid through December 10, 2023.
Do not attempt to redeem this offer if you are already a Drafts Pro subscriber. Depending on how you originally subscribed, it could generate duplicate subscriptions.
I've activated Drafts Pro, now what?
Try out some themes. There are some great ones built-in, or install themes from the community in the theme directory. Tap the Aa for editor settings to make them changes (more about themes).
Change your Home Screen/Dock icon, also in the Aa editor settings screen.
Join and browse the forums for tips, integration guides, and more!
Follow Drafts on Mastodon for news, tips, and other updates.
Set up some workflows that introduce advanced features like workspaces…a couple of walkthroughs:
Enable MailDrop to get a unique email address you can use to send content to Drafts.
Offer Details
This offer must be redeemed on iOS due to App Store limitations, but Drafts Pro will be unlocked on your Mac as well, as long as you are using iCloud sync.
When you redeem the offer, you will start a free 3-month trial period of Drafts Pro. At the end of the three months, if you do not cancel, Drafts Pro will renew at the regular annual price ($19.99/year). Apple will send you an email reminder before the renewal, and you can cancel at any time in your App Store account.