Drafts 18.1 (iOS) has been released in the App Store, details below.
See also: Drafts 18.1 for macOS Released
What's New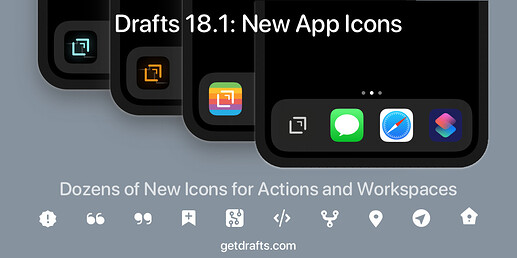 New alternate app icon choices. Tap the app icon in Aa editor settings screen for new neon, six colors and other app icon options.
Several dozen new action/workspace icon options. Edit actions and tap the icon to see the options.
Other Changes
Change: The /workspace URL action can now accept the name=Default argument to clear filters and load the default workspace.
Change: Adjusted the gray app icons to work to blend into the dock on iOS 13, one for dark mode, one for light mode.
Fix: Task marks in TaskPaper syntax should only be recognized at beginning of lines.
Fix: Remember setting if the action bar has been set to be hidden temporarily.
Fix: Initial positioning of action bar group selector could be wrong on app cold launch.
Fix: Fix for header styling regression in "Markdown" syntax.
Change: Refactor and simplify a bunch of code around keyboard visibility.
Fix: Top-Bottom navigation options in navigation contextual menu would not always work.
Fix: Case where keyboard could be displayed erroneously when returning to app with a view other than the editor open.
For a complete history of updates, visit the changelog