Version 27 Drafts crashes at launch with MacOS Monterey.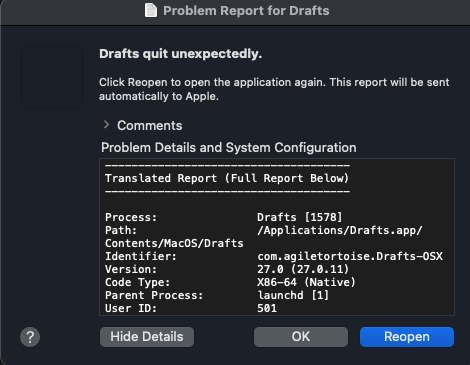 I have the same problem and came here looking for a possible beta to test.
@agiletortoise I believe is aware of the issue (based on discussion in Slack) and working on a fix in beta form but it'll take a few days before it's released.
Drafts beta information is always available on the web site.
As previously noted, no betas are currently available. This happens every year as Greg works on getting the betas ready for the new OS.
Beta discussions take place on the Slack channel that @motopascyyy also referenced. Details for that are posted along with the beta programme information once it is running.
Or you could sneak a peak at the beta page source which might also have the details in the comments

.
Please submit these crashes to Apple with Feedback. Anytime an existing, shipping app starts crashing on the new OS it's a regression at Apple - which is true in this case. More reports draws their attention.
Yes, I will have a temporary workaround for this issue in a beta, but it's better if Apple fixes it's problems. You can mention feedback #FB9331055, which has the technical details for them about the crash.
Submitted to Apple via feedback assistant
Note that if you are on the macOS beta, there is a Drafts beta which works around this problem now. See beta program link below. The App Store version is likely to start working again after another macOS beta release or two as well, I believe Apple is addressing the issue.
Thanks for getting this sorted out so quickly!
FYI, macOS 12b4 fixes this issue at the OS level and the App Store version of Drafts works fine again.
Another issue I've found with Drafts and Monterey is that the Shortcuts App in MacOS won't recognise the Drafts shortcuts actions. This might be fixed in beta 4 but thought I'd mention here (I'm on holiday so I'm not going to risk installing the new beta until I get back).
If I've got a Shortcut with a Drafts shortcut action, I get the message "Unknown Action: This action requires Drafts to be installed":


I'm currently on the TestFlight version of Drafts, but I was getting this message even when using the App Store version.
Please see beta release notes…

Shortcuts are not available at all in the App Store version because it is not even possible to put them in a native Mac app built for anything less than macOS 12 (if you see them in some App Store apps you have installed, it's because the are Catalyst iPad apps, not native Mac apps).