This is a bit of goofiness that is the result of the way iOS handles bold, italics and underline commands and input views.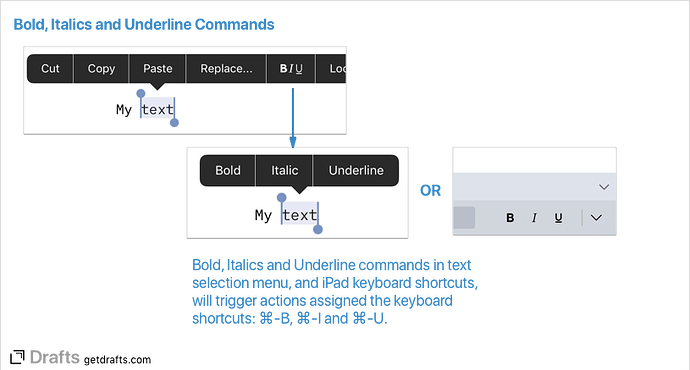 Bold, italics and underline commands have their own routing, regardless of whether they are triggered by using external keyboard shortcuts (⌘-B, ⌘-I and ⌘-U), triggered from the text selection menu, or from the iPad keyboard shortcuts. Since Drafts intervenes in this process to be able to react to those external keyboard shortcuts, if you trigger bold, italic or underline via any of the other methods, you will get the same thing happen as if you hit the external keyboard shortcut.
The default installation of Drafts comes with Markdown bold and italics actions assigned to the ⌘-B and ⌘-I shortcuts…so they are also triggered if you select "Bold" or "Italic" from the text selection menu. You can change these assignments if there are other actions you would rather run using those buttons…or assign some other action to the ⌘-U shortcut, and you would be able to run that action by tapping the "Underline" commands in the other locations.
Not, perhaps, that exciting, but a handy little tip if you want to have another tool accessible from the text selection menu - like say assigning ⌘-U to an action which toggled title-lower-upper case on the selection.