Drafts v32 introduced a new "Create Draft" action step, which provides a quick, easy way to configure actions to create new drafts with boilerplate template content, and specific tags, flagged status, and syntaxes assigned.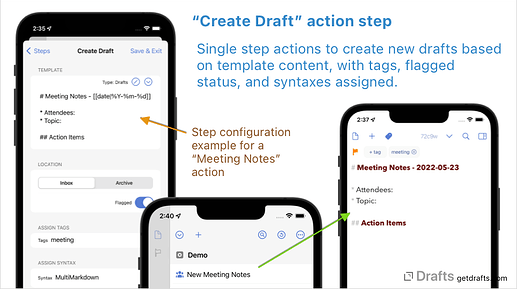 It has always been possible to script actions which create drafts with template content, and there are some more advanced examples posted to these forums, but the "Create Draft" step is more approachable and fills most based needs for template-based content creation.
How-to setup your own template actions
Install the example "New Draft" action action from the Directory.
Edit the action:

On iOS: Tap and hold the action in the action list, select "Edit"
on Mac: Right-click on the action in the list, select "Edit"

Select the steps, and the "Create Draft" step.
Make modifications to the template. It can contain plain text content, and also dynamic template tags to insert information like dates (New to template tags? Start with the "Using Drafts Templates" article).
Make changes to assign any tags you might want, or alternate syntax highlighting, etc.
Close the action editor and try your new action.