In the default Markdown syntax highlighting definition in Drafts, URLs are not activated to make it easier to edit the text, instead relying on link mode to activate URLs. If you use many [link](url) style Markdown links, however, you might prefer those links be tap/clickable directly in the editor.
The Markdown+Links example custom syntax enables just that capability. When installed and assigned to a draft, the link portion of a [link](url) Markdown link becomes active and can be tapped/clicked to open that URL.
DEMO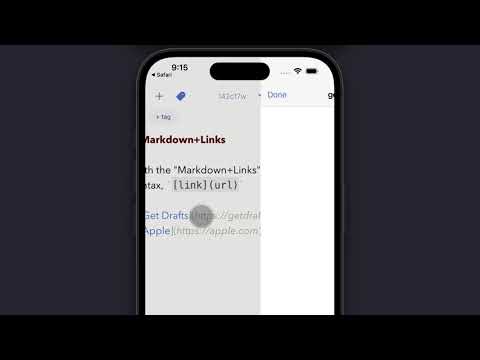 Usage
To use the Markdown+Link syntax:
Open the Markdown+Link syntax page in the Directory
Use the "Install" button to open Drafts and install the Syntax.
Select the syntax for use on a draft.

On iOS: Tap the Aa below the editor, then in the "Syntax Highlighting" section, tap "Current Draft", and select the "Markdown+Links" syntax.
On Mac: Select "Markdown+Links" from the drop-down menu below the editor.
Once selected, your Markdown links in the draft will activate automatically.
About Custom Syntaxes
Drafts custom syntaxes enable a variety of advanced customization possibilities. One is the ability to create link definitions that control activation of tappable links in the editor. The are the same configurations that enable [[wiki-style]] cross-links.