You probably already know Drafts is great for quickly capturing your text, but those thoughts, ideas, tasks, snippets, or whatever can build up quickly - and Drafts has tools to make it just as quick and easy to file away those drafts when you have acted on them - primarily the "After Success" settings on actions.
Using these settings, when an action is successfully run on a draft, the draft can be automatically moved to the archive or trash - and, optionally, have tags assigned to it.
Consider a common use cases for Drafts where this might be a time saver:
Tweeting: If you use Draft to compose and post tweets to Twitter, you are not likely to want the draft hanging around in your inbox after you have tweeted. If you configure your "Tweet" action to archive and assign the tag "tweet", the draft will be out of your way and you can later filter the draft list for the tag "tweet" to see all your archived tweets.
Taking a few minutes to set the "After Success" settings on your most used actions can be a real time saver and help you effortlessly declutter your inbox.
Note: If an action with these settings fails due to an error of any sort, these settings will not be applied. Only when the action is completed successfully will the draft be moved or have tags applied.
Configuring After Success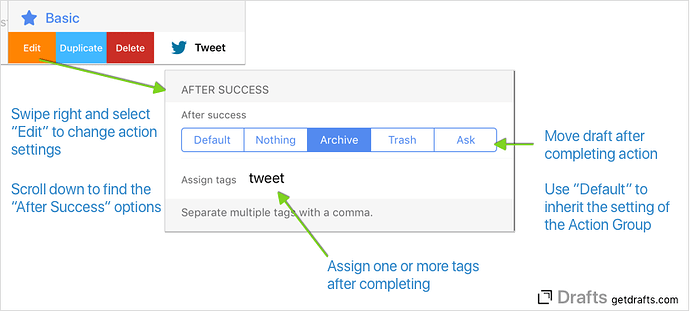 To change the "After Success" options for an action: Swipe to the right on an action in the draft list, and tap "Edit", then scroll down to the "After Success" section. The available options are:
Default: Use the "After Success" setting of the action group this action is in. This same option exists on action groups, and this setting makes it easy to configure a whole group of similar actions to behave the same way.
Nothing: On success, this action will not move the draft.
Archive: On success, move the draft to the archive.
Trash: On success, move the draft to the trash.
Ask: On success, prompt for you to choose whether to move the draft to the archive, trash, or leave it where it is. Useful for actions which you sometimes want to behave one way and sometimes another. The "Ask" dialog is shown below:
Assigning Tags
The field below the after success selection allows you to list one or more tags (comma-separated) you wish to have assigned to the draft. These assignments are additive, and will not replace any tags already assigned to the draft.