Add horizontal dividing lines to help organize an Action Group list. So trivial, but so aesthetically helpful.
Have you seen separators in action groups? They are used to subdivide sets of actions in this way.
Yep, now I see it, thanks.
Most Mac s/w I've used (since 1992) offering list dividers do so more conspicuously. Draft's UI choice, as usual, works great once you know where it is! I'm not quite using it per its original design, but it works: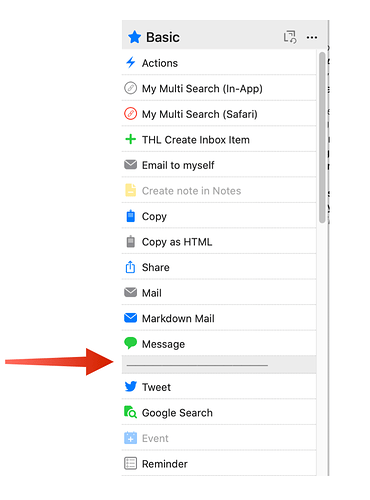 This isn't the first app to embrace its steep learning curve and require users to aspire to priesthood. But it's a dynamite app that's irresistible for exactly such users, so I can't question the model.
I'll keep consulting scriptures and praying incessantly. Thank you, Father Sylumer…

couldn't have phrased it better!