I've made some update to the example Tools action group. The actions can be installed as a new group, or they are all available individually in the action directory as well, if you wish to only install some you are interested in.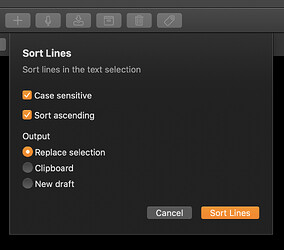 The biggest additions include several new multi-function tools which have options related to their function as well as output options to replace text selections, or send result to clipboard or a new draft. These are:
Some other examples for straightening quotes, trimming whitespace and more have been added as well.
If there are other examples of common string transforms you'd like to see, please ask here…will likely create a few more examples. There are many others from the community already in the action directory as well. A few great ones: