Hi all
ive been using the cool URL scheme to send notes as Markdown files Devonthink:
x-devonthink://createmarkdown?title=[[title]]&text=[[draft]]

this works well and reliable yet the Markdown note in Devonthink all start with #: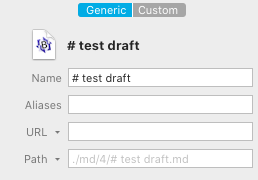 now for the body that's what i want. (to start with #) but for the Devonthink name i wont to drop the #…
is that possible somehow?
thx a lot!
Z