I have a Workspace with a collection of drafts (each draft is a question), and I want - on a scheduled basis - to automatically append each draft to the same note in Evernote.
Currently, I have 16 drafts and when I run the following Action: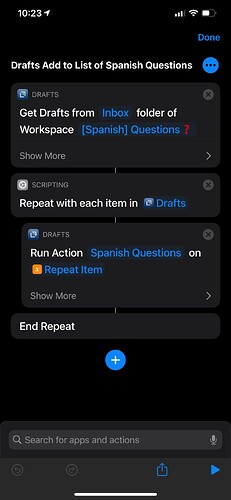 The green banner does display itself 16 times sequentially: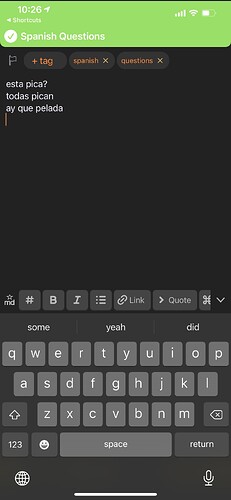 However, when I go to my note in Evernote, not all 16 drafts have been appended. Maybe half of that.
I tried adding a "Wait X seconds" to the Shortcut, however this I have found doesn't even trigger 16 green banners - it may display only 8, but at least those 8 all actually get appended to the note.
I assume the green banner is not a success response? I'm assuming there is some sort of rate limit throttling with the Evernote API, but I have no insight into that. If Evernote did reply with a 429 response, it clearly isn't being reflected.
Any ideas how I can achieve what I'm looking at? I'm guessing the best path forward would probably to have a script that takes all the drafts in my Workspace, creates a single draft out of them all, then does just a single call to Evernote. If anyone could provide an example of such a script (I imagine it would be better writing the script in Drafts as opposed to creating a Shortcut) which consolidates all drafts of a Workspace, it would be greatly appreciated. Thank you.