Hi all
So I use drafts for everything (no surprises here :)) and one thing that takes a lot of manual work is dealing with shopping items.
I cant use drafts for shopping lists (since i need to share them with wife and kids) and thus i use apple reminders. The actions List in reminders is perfect for that.
the "problem" (1st world problems…

) is that i use quick capture for shopping items from the drafts app on my watch each time i remember an item so i end up with 5-6 separate drafts with single/multiple shopping items like this: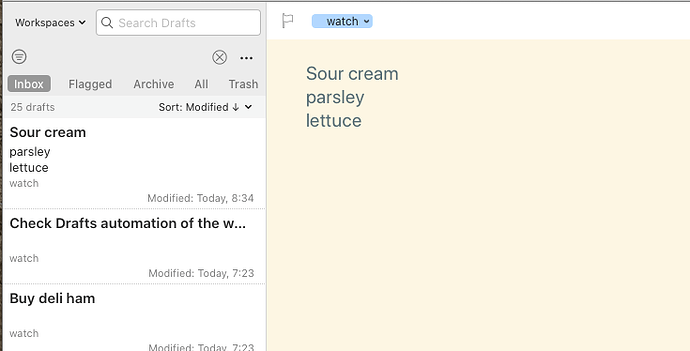 now i have to remember to go each day one by one and click the send to reminders action to get them to the family shopping list…
so after this long intro im wondering, can i automate this somehow? I thought of a few things but don't know how to proceed.
add a keyword (like buy) to each line/draft which will trigger a drafts automation and send to reminder? (can you even automate that in drafts?)

apply a tag somehow (ie shopping) when i capture on the watch (in new watch os7 i understand there can be multiple complications, perhaps a separate capture to shopping complication)? and then automate based on the tag

other idea?
any help or directions would ne super appreciate

Best
Z