I'm attempting to use ENML for the first time. I don't know XHTML at all. I've been using different resources to try to make it work. Here is my action: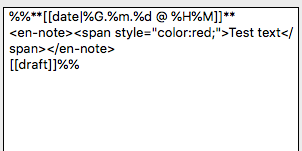 It's set to prepend and render in ENML (obviously).
It doesn't work! LOL. If I remove the color part, it works.
%%[[date|%G.%m.%d @ %H%M]]
Test Text
[[draft]]%%
Any comments or corrections would be awesome! Thanks