[UPDATE]: The period of this promotion is over. Thanks for your generosity! We tallied sales for and rounded up a bit and were able to donate $1500 to the Relay FM St. Jude Fundraising page!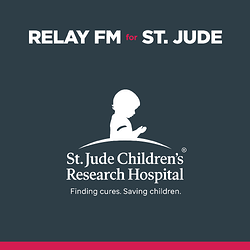 September is National Childhood Cancer Awareness Month. In commemoration of that event, the Relay FM Podcast network is doing a fundraiser for St. Jude Children's Research Hospital.
As a cancer survivor, I am always eager to support St. Jude and the incredible work they do. As I looked at the donation page, I wondered if there was a way use what we do here at Agile Tortoise to apply some additional leverage to our donation power, and this is what I came up with…
Subscribe to Drafts Pro, Support St. Jude
Starting from when this post goes live, through the end of the day Wednesday, September 18, 2019, Agile Tortoise will donate all proceeds from new Drafts Pro subscriptions to the Relay FM St. Jude Fundraiser.
If you purchase a new annual ($19.99 USD) or monthly ($1.99 USD) subscription to Drafts Pro during this time, the amount you are billed by Apple will be donated to St. Jude. Not sure if "not quite matching grant" is valid terminology, but Agile Tortoise's contribution will be to cover Apple's 30% cut so the total donation to St. Jude matches the amount you pay.
New to Drafts, or an existing user of the free version, and want to give the Drafts Pro features a spin? This is a great way to do it while supporting a great cause! And don't forget to tune in to the Relay FM Podcastathon for St. Jude on Twitch TV Friday!
Details
What is Drafts?
Drafts is a quick capture note taking and productivity app for iPhone, iPad, Mac and Apple Watch. You can download it for free from the iOS App Store or Mac App Store. You can learn more about Drafts at our website.
What is Drafts Pro?
Drafts Pro unlocks premium features in Drafts, like themes, editing actions, workspaces and more. It is available as either a $19.99 (USD) annually, or $1.99 (USD) monthly subscription in app. A Drafts Pro purchase on either iOS or Mac can be shared with other platforms sharing the same iCloud account. We have a lot of great updates on the way in the coming weeks, and Drafts Pro will let you take full advantage!
How do I purchase Drafts Pro and support St. Jude?
Download Drafts from the iOS App Store or Mac App Store. In Drafts Settings (iOS, gear icon at lower right) or Preference (Mac, File > Preferences…), tap to "Learn more" about Drafts Pro and you will be prompted with information about Drafts Pro and how to purchase. There is no need to otherwise identify your purchase, we will donate based on all purchases in the timeframe, so even new Pro subscribers who are not aware of this event will be counted.
But I'm already a Drafts Pro subscriber?
Great! Thanks so much for the support. Do not cancel and re-subscribe to support this effort. Just go straight to the Relay FM St. Jude Fundraising Page and contribute!
What about the free trial period?
The Drafts Pro annual subscription has a 7 day free trial. We will contribute based on new annual subscriptions which start their free trial on September 18, 2019, and convert to paid subscriptions successfully after the 7 day trial.
What about renewals?
To be clear, only the initial purchase of the subscription charged in this period will be donated. If you decide to continue your Drafts Pro subscription after the initial period, that amount will not be contributed to St. Jude on an ongoing basis.
When will Agile Tortoise make its donation?
Before the end of September. After sales figures come in for the conversion of any of the 7 day free trials purchased on the 18th, we will calculate a total and make a single donation to the Relay FM fundraising event in that amount. We won't actually get paid by Apple for these amounts until November, but will not hold up the donation waiting on Apple.