Over the years, many users have asked how they could better support Drafts…saying things like, "I would pay twice the price." If you are one of those people, the Drafts Patron level subscription is available. This level does not unlock any additional features over the standard Pro subscription, but if you enjoy Drafts and want to support it at a higher level, consider switching to the "Patron" option. You can do so by editing any existing subscription in the App Store.
To switch to a Patron level subscription:
You must first be a Drafts Pro subscriber. If you have never had a Draft Pro subscription, just activate the subscription in the app.
Follow this link to open your subscriptions, or open the App Store app on either iOS or Mac, go to your account, and select "Subscriptions".
Locate your "Drafts" subscription and select it, then "See All Plans"
Choose the "Drafts Pro Patron" option, and follow the prompts.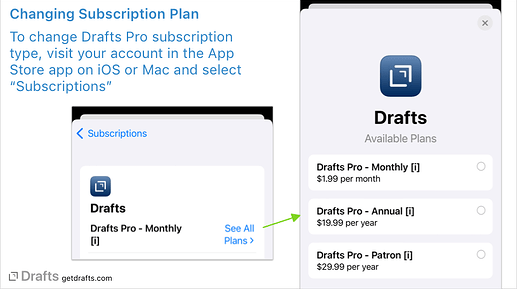 You will not be charged immediately for any change to Patron, but the next time your subscription is due to renew, the new pricing will take effect. The Patron level is not currently offered in the app, only as an upgrade option for existing subscriptions.
Again, to be clear, the Patron level does not unlock any additional features, so don't feel obligated to try out this higher level of support.
For more information about Drafts Pro, see the User Guide