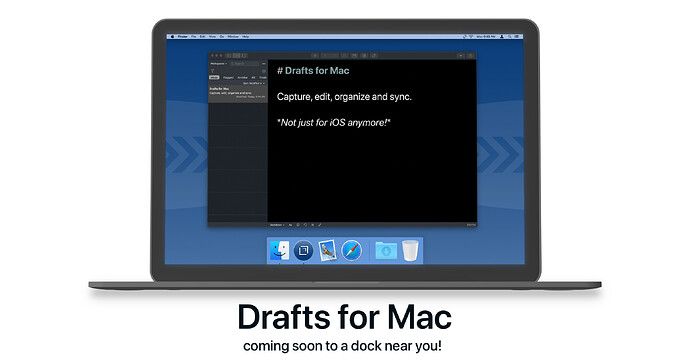 The release date is set for Drafts for Mac for March 26, 2018. Thanks to all those who have participated in the beta and provided feedback! This version is just a start, and we look forward to continuing to deliver more functionality over the coming months.
A few details that might be asked:
Free download. Similar to iOS version, free version supports creation, editing, sync with the iOS version.
Pro subscription available via iOS or Mac, and can be shared across platforms using iCloud. Basically, if you are synching with iCloud, your Pro subscription can be shared the same way. Pro enables workspaces, editor themes and appending/prepending in the capture window on Mac.
Requirements: Mac running High Sierra (10.13) or greater.
Limitations: No actions yet. Action will come to the Mac, but for now actions are only available on iOS.
Thanks again for all the support and hope you enjoy having Drafts on your Macs.