Drafts 5.4.1 is now available in the App Store.This update includes all the great Siri Shortcuts, WordPress and other additions of Drafts 5.4 - and is fully ready for the iPhone Xs, Xr, Xs Max and Apple Watch Series 4.
Apple Watch Settings Moved
Settings for the Drafts Apple Watch app are now in Drafts Settings screen, rather than in the Watch app on the iPhone. No one ever found them in the old location - but because the change to the way they are stored, you may need to reset these settings to your taste. Details in the Apple Watch app docs. There is also a new setting to disable the inbox count on Watch face complications.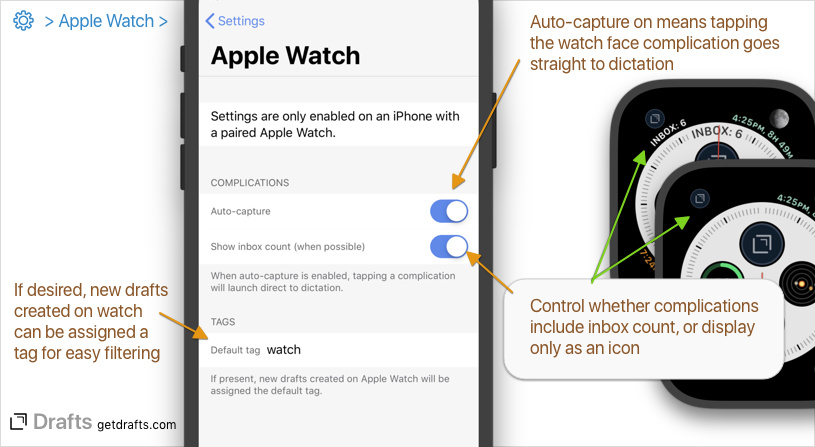 Details
New: Update Watch app to support new Series 4 complication types.
Change: Move Apple Watch app setting inside Drafts Settings (no longer in Watch app on phone).
New: Add setting to "Show inbox count" on complications. Disable to only show icons for most complication types.
Fix: Some cases where WordPress API calls failed could get reported as success, depending on how the server returned the error.
Fix: Missing placeholder text in dark mode for Mail/Messages action steps.