Drafts 5.10 (iOS) is now available in the App Store, details below.
OneNote Integration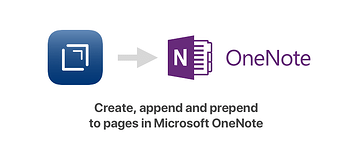 OneNote action step. Similar to Evernote action step. Allows creating, appending, prepending to pages in Microsoft's OneNote service.
New in Workspace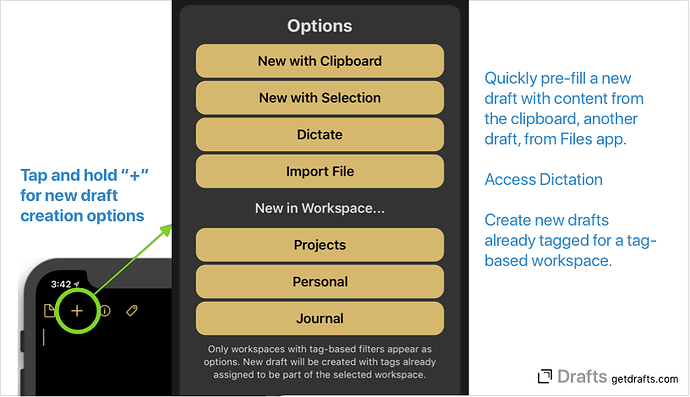 Drafts has always had a somewhat hidden convenience feature when you tap and hold the "+" new draft button. This menu allows for a number of new draft options, and now also has "New in Workspace…" options. Any workspaces you have created which are based on tag-filters will appear here as options and using these options creates a new draft already assigned the tags needed to place that draft in the workspace.
Other Additions
New: Visibility of action groups in the action list can now be configured like visibility as a keyboard. If the group is not "available in list", it will not be displayed in group select sidebar or quick access tabs in action list. If a group is not available in either the list or keyboard, it can still be accessed/edited in "Manage" view.
New: HTMLPreview script object to show HTML preview, has one method
New: Share script object to support scripting of system share sheet. Supports not only sharing as text, but sharing as a URL or file, which may be useful in specific cases. For example, this Share as Markdown File action sends to the system share sheet as a ".markdown" file - which when selecting the share to Mail sends as attachment. Includes class methods:

Share.shareAsText(text) -> boolean
Share.shareAsURL(url) -> boolean
Share.shareAsFile(filename, text) -> boolean
Other Changes and Fixes
Change: Some improvements to error messages from failed Dropbox actions.
Change: Better HTML output for fenced code block when using GitHub Markdown option.
Fix: Separators not displayed properly when using Operations > Run Action from draft list.
Change: Updates default action sets.
For a complete history of updates, visit the changelog