Drafts 40.0 has been released:
Details below. For a complete history of updates, visit:
40.0
Updated OS version requirements:
iOS 15.0 or greater (was iOS 14.7 or greater)
macOS 10.15.1 or greater (no change)
watchOS 7.1 or greater (no change)
New Tag Filtering Interface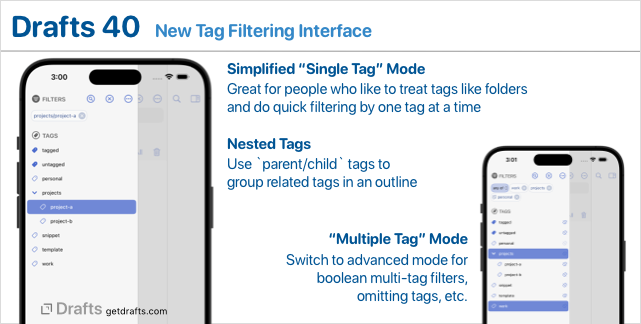 We updated the panel to the left of the draft list used for applying tag filters. A few notes about the new features:
The new panel has two "modes," which can be switched in the (...) options menu at the top:

"Single Tag" mode (default): Only a single tag at a time can be selected. This allows filtering to work more like folder selection, and it is great for many people who prefer simple filtering.
"Multiple Tags" mode: Advanced multi-tag filtering, with support for all/any querying as well as tag omission.

The new Tag Filters appear if running iOS 16 or macOS 13 or greater. Older OS versions will continue to use the legacy filtering interface.
Nested Tags
As part of the update to the tag filtering panel, it now supports nested tags in the format parent-tag/child-tag. If you assign tags with a / forward slash, they will be treated as an outline in tag filtering, and filtering for parent will also find parent/child-a, parent/child-b, etc.
Nested tags can be useful to group related tags or subject areas when organizing your drafts.
MIGRATION NOTE:

As a side-effect of this change, tags may not longer be assigned with begin or end with the / (forward slash) character. If you have existing tags beginning or ending with a / they will remain assigned, but we recommend modifying those with the "Rename Tag" command, or action for compatibility moving forward. If you have any actions which assign tags that begin or end in "/", they should be updated to reflect this change.
New Quick Search and Command Palette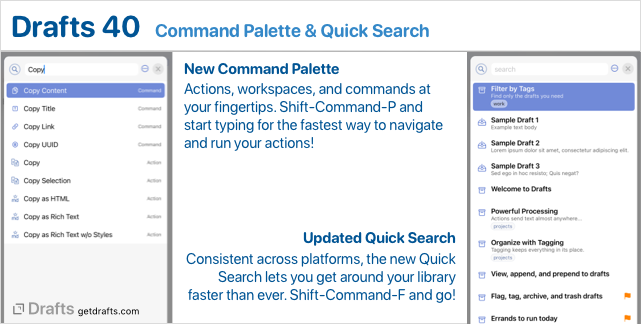 The Quick Search window has been rewritten to focus on quick location and selection of only drafts. It significantly optimizes use with keyboards. Just hit shift-command-F and start typing.
There is also a new Command Palette window for quickly locating and running actions, opening workspaces, and running common commands. It is also optimized around use with a keyboard, just hit shift-command-P and start typing. Locating and running actions can be much faster than browsing through the action list.
More about Quick Search and the Command Palette
Apple Watch Updates
The Drafts Apple Watch app has migrated to the use of Widgets for complications on newer watchOS versions. In some cases this may require you set up your watch face complications again after the update.
A "Capture in Drafts" app shortcut is also now available and suitable for use with the Apple Watch Ultra's action button.
General Updates
Quite a bit of work was done in this release to modernize various interface elements through the app and to align better areas that were divergent between the iOS and Mac versions. Most of these are subtle changes and not worth calling out individually, but taken as a whole, they make the overall experience better in several ways.
Other Updates and Changes
All Platforms:

Change: The small size home screen widget now displays four items when running on iOS 17 or macOS 14.
Fix: {{hashtag}} tag now working in Mustache template.
New: /commandPalette?query= URL scheme to launch directly to command palette.
Fix: Update to support Reminders / Calendar permissions changes when running on iOS 17 and macOS 14.

iOS:

Fix: Problem selecting workspace theme if existing assign theme was deleted.

Mac:

New: Update Mac toolbar to more modern layout.
New: Add "Copy" button in capture window

Shortcuts (iOS 17/macOS 14 only)

New: "Arrange Text" shortcuts action, which can be used with continuation returning result to next action in the shortcut.
New: "Dictate Text" shortcuts action, which can be used with continuation returning result to next action in the shortcut.
New: Shortcuts action to start/end Live Activity for a specified draft.

Scripting

Change: Significant increase in useful parameter checking errors logged to action log when incorrectly using function calls in the Drafts scripting library. If you use incorrect parameter types or are missing parameters on Drafts' native javascript functions, you should now get more helpful feedback in the action log.
New: app.currentWindow.showCommandPalette(initialQuery) scripting function to display command palette, if available. (docs)
New: Tag.renameTag(oldTag, newTag) function. Returns the number of drafts effected. (docs)