Hi @agiletortoise , Hi @sylumer ,
is there a simple way to dismiss the keyboard if the cursor is active in search on the left or right panels on ios?
my problem is, that the list view of tags or actions are hidden behind the active keyboard.
This might be an apple issue. I am not sure about it.
Think of a tag "watch" that is the last entry in the left pane but hidden behind my active keyboard.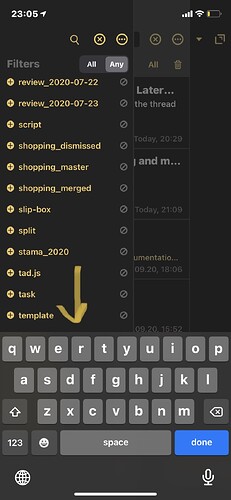 Work around at the moment is to enter a valid search entry ("wa" and get the tag list to be shorter than the available screen height - keyboard height.