Drafts 21 is out today, and it brings a major new feature for Actions developers: the ability to create custom user interfaces using the HTMLPreview window, which can now execute JavaScript and pass data back out to the calling context or action.
Accordingly, I've released MGCheckListPrompt (and MGListPrompt), a pair of custom list/picker dialogs which let you choose from a list of options — which can be either drafts, or arbitrary choices. There are lots of configurable options and conveniences, including: full keyboard navigation/control (no pointing devices/fingers required!); support for Mac, iPad, and iPhone; automatic light/dark theme support; customisable appearance via CSS; optional type-to-select mode; and so on.
MGCheckListPrompt is the multiple-selection (checkboxes-type) variant, and MGListPrompt is the single-selection (radio-buttons-type) variant. Both are fully documented, include various example actions, and work with Drafts 21 or later on iPadOS, iOS, and macOS.
These should also serve as useful examples of what you can do with the new HTMLPreview functionality in Drafts 21.
Here's a screenshot of MGCheckList Prompt (on iPad, in the light theme).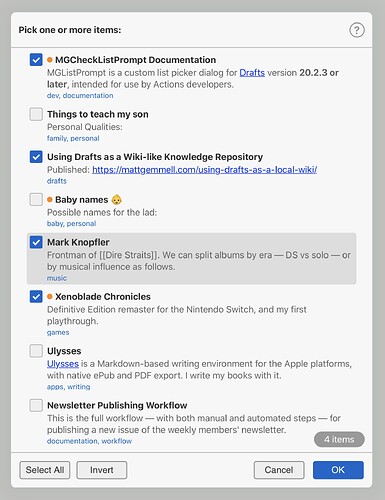 I hope you'll find these reusable custom prompts useful in your own Actions and workflows.