Hi @RosemaryOrchard here's the screenshot of the error message from the Things/Bear action install.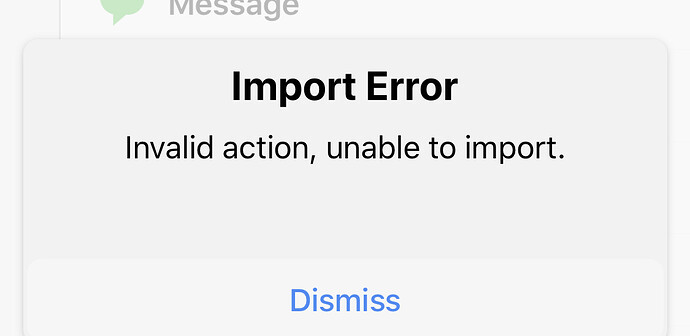 Just to check, you're trying to install the action from this URL?
I'm not sure what could be causing that to be honest.
Imports fine for me from that link… but this device does have the Drafts beta on it. Will try on a non-beta one when I get home.
Yep. That url. Thanks for looking, anyway.
Fails with the import error if I try a device with stock Drafts App.
Right. I rolled back to 5.2.3.12 and from that point I could rebuild the action steps and then Air Drop to my work phone (where I have the stock app and no pro subscription) and succesfully import it.
Here's a link for anyone who wants to try it.
https://actions.getdrafts.com/a/1ND
I tried sharing from the latest beta an empty action - no steps. That gets the import error.
Comparing my iPad on an old beta vs. my iPhone on the latest beta, I can see my action groups where I imported the action by @RosemaryOrchard are empty on my iPad (no actions show) vs, populated on my iPhone!
Screen shots of the groups

iPhone


iPad

@agiletortoise - Greg, is this enough information here for this, or would you like it in an e-mail re. the beta?
Thanks for debugging, I had just grabbed my test iPad running stock everything but you beat me to it!
Tha "Alt" version works fine for me with the stock app